The Gourmet Difference
Natural Meat & Grain Free Goodness
Natural Diet
Our cat cuisine is developed to be as close as possible to the natural diet of cats in the wild, so you know that you are feeding your loved one healthy, delicious food, full of natural nutrition.
Cats in the wild are carnivores, they need real animal protein for natural energy, not often would you see cats eating grains & corn.
We put in the best natural meat & fish into our cat cuisine and avoid the nasties, like grains & cereal fillers.
Gourmet Delight is grain free, made with real natural fish, chicken & grass fed beef & no artificial flavours or preservatives. Gourmet Delight is proud to be natural as nature intended.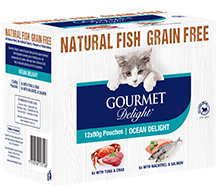 Gourmet Delight
85g Can
Grain Free
Natural Meat & Fish
Grass Fed Beef
No Artificial colours, flavours & preservatives
*All Natural Meat & Fish, No Artifical Colours, Flavours & Preservatives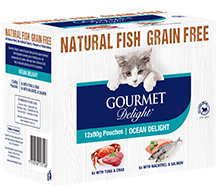 Product Name
85g Can
Grain Free
Natural Meat & Fish
Grass Fed Beef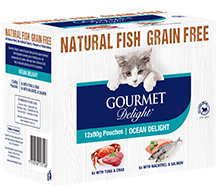 Product Name
85g Can
Grain Free
Natural Meat & Fish
Grass Fed Beef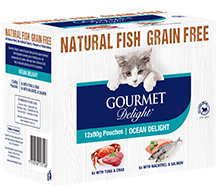 Product Name
85g Can
Grain Free
Natural Meat & Fish
Grass Fed Beef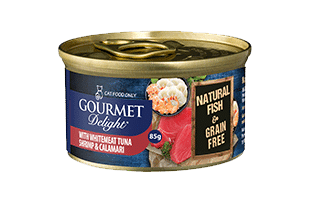 Product Name
85g Can
Grain Free
Natural Meat & Fish
Grass Fed Beef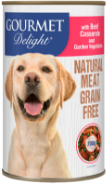 Product Name
85g Can
Grain Free
Natural Meat & Fish
Grass Fed Beef